A. READY TO GO: 8 WEEK TEACHER SELF-CARE CHALLENGE
Product description:  A  virtual experience, starting January 17th 2022, for teachers in your school who want to make their emotional or physical self-care a priority and prevent burnout.
Who is this for: Secondary schools who want to invest in an online resource that supports the well-being of the teachers in their school who would like to take part in this experience.
Package deal for schools: €197 participation fee discounted to €48 per teacher for orders of participation tickets for 5+ teachers (schools discount valid until 14/01/2021 at 10PM GMT)
B. READY TO GO: TAPPING FOR ACADEMIC SUCCESS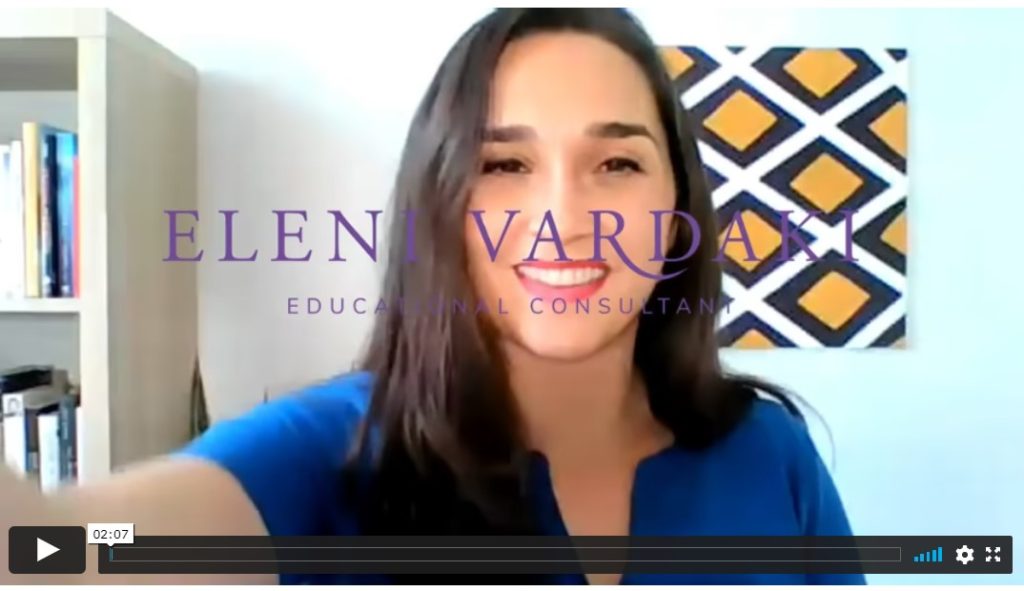 Product description:  A series of approximately 10 minute prerecorded video sessions to help students learn how they can overcome procrastination, fear of failure, and other academic-related stress and anxiety blocks to their academic progress.
Who is this for: Secondary schools who want to invest in an online self-help resource that supports the academic progress, confidence and wellbeing of their Grade 11 & Grade 12 students who are being held back by exam stress and procrastination. 
Package deal for schools: Email eleni@elenivardaki.com with the number of Grade 11-12 students you would like to register to receive a discount package offer.
C. STRESS MANAGEMENT TRAINING FOR GRADE 11-12 STUDENTS & STAFF
>>> I offer schools customized prerecorded stress management videos designed to help your Grade 11 and Grade 12 students better navigate:
academic stress and anxiety that's interfering with test / exam performance
workload overwhelm that's interfering with their students' ability to learn better and be more productive
procrastination that's causing them to fall behind on multiple deadlines
concentration and motivation to get their work done
By learning how to reduce their excess stress / anxiety in ways that work for them,  students can shift out of their avoidance / 'flight' / fear response to the academics. They can shift into the confident, decisive, front part of their brain where they can process information and manage their time more wisely. 
>>> I also offer schools live 30-90 minute online stress management training for Grade 11 students, Grade 12 students, or teachers – be that hands-on experiential learning classes, story-telling based sessions, or live Q&A sessions. 
To book a time for us to meet and discuss: eleni@elenivardaki.com 
WHAT INTERNATIONAL SCHOOL EDUCATORS HAVE SAID
"Thank you Eleni for your enthusiasm, professionalism, and warm approach to our students."
"I want to thank you for the very interesting and useful workshop you offered to our 11th grade students. You were so calm and engaging in your presentation and maintained the kids' attention throughout. I know they have enjoyed it a lot, and I am glad they were engaged and shared their questions with you."
"Eleni participated as a keynote speaker in the IB Students Conference, Breaking Horizons, held by Prepas UPAEP. In her talk, she addressed more than 2,000 participants who learned how to manage their emotions and focus their strengths on the challenges involved in the IB programmes. She spoke from her own experience as an IB graduate and provided meaningful advice from her expertise in stress management and academic achievement. Her talk will definitely impact the students' development."